Introduction to Loomweaving
April 22
@
2:00 pm
–
April 29
@
5:00 pm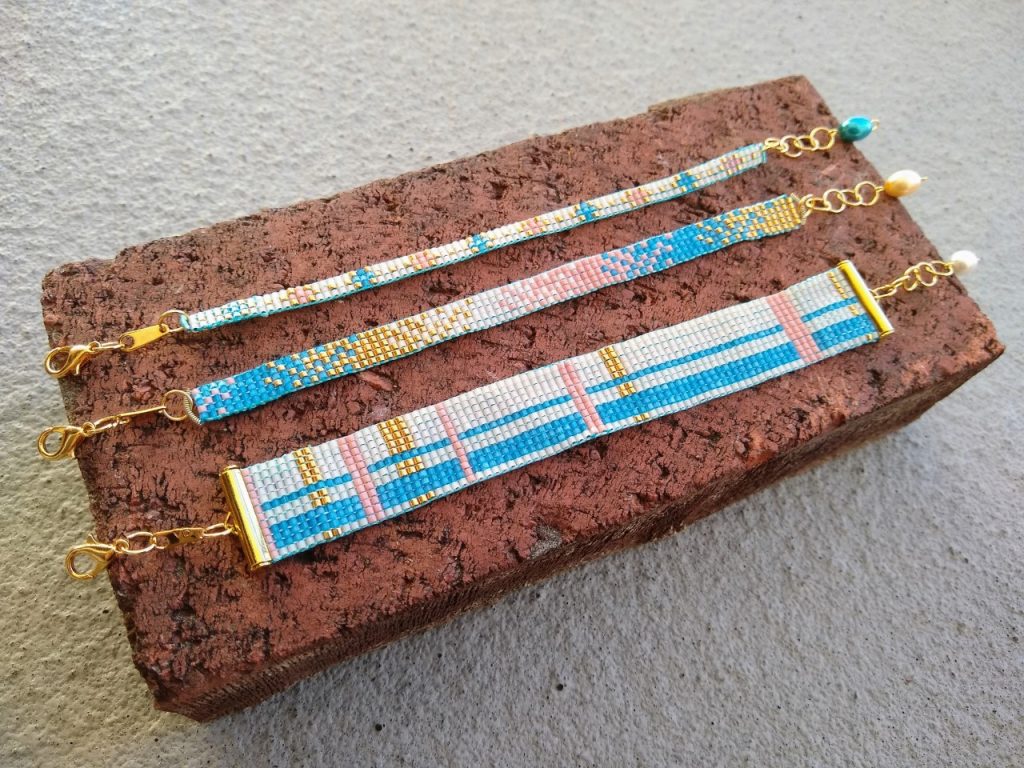 Instructor: Tamara Allison
This is a TWO DAY CLASS! The first class will take place on April 22nd, with the follow up class on April 29th.
Begin your loomweaving journey with our intensive, start to finish, two day workshop! You will learn how to warp the loom for one or multiple bracelets, how to finish with a seamless technique, and variety of tips and tricks along the way. You will have at least one completed bracelet from the process as well as a fully illustrated set of instructions to keep as a reference for future projects.
Whether you bring or buy your beads, here's what you'll need! Only one Blueberry Beads package is needed unless otherwise noted!
Beading Loom (We have Jewel Looms here at the shop!)
Size 10 Beading Needles
Sewing Needles
Nymo Beading Thread
Tex 70 S-Lon
Beading Mat
20mm Slide Tube Clasp
Size 11 Seed Beads (1 Bag each of 4 Colors)
French Wire
Jump Rings (5 or 6mm)
Lobster Claw Clasps
If you want dangles:
2 inch Headpins
Accent Beads
Optional but preferred:
Chain nose and/or pent nose pliers
Wire cutters
Round nose pliers
Small embroidery scissors
This class will be held in the Blueberry Beads Classroom space above the Blueberry Beads store. If you're coming in from the front door, from the foyer, go through the door on the left and up the stairs to reach your destination! If you need help, feel free to ask any of us inside the Blueberry Beads store for guidance.
Recommended Age: 8+ (Children 12 and under MUST have a parent or guardian with them to attend this class)
Questions? Contact Kat Here >>> classes@blueberrybeads.com or 425-540-9096
Related Events
REFUND POLICY: Students who cancel 5 days (or more) before the start date of their class receive a full refund. Students who cancel 4 days (or less) before the start of their class will ONLY receive a refund for the price of the kit. The $140 instruction fee is non-refundable UNLESS we are able to fill your seat before the start of the class.
CANCELLATIONS: Classes that have not met the minimum number of tickets sold 5 days prior to the date of the class may be subject to cancellation. If your class is cancelled by Blueberry Beads, you will be notified by e-mail or by phone and receive a full refund of tuition and fees.
MISSED CLASSES: Students who have missed a class will not receive a refund of any kind.
HOLD HARMLESS: I agree to hold harmless Blueberry Beads, its officials, and its employees for any and all claims for personal injury and/or property damage in which damage and injury is or appears to be proximately caused in whole or in part by my participation in this program.
PHOTO PERMISSION: I give permission for Blueberry Beads to use, without limitation or obligation, photographs which may include my image or artwork for purposes of promoting our classes.