Nibbit Earrings
December 11, 2022
@
1:00 pm
–
4:00 pm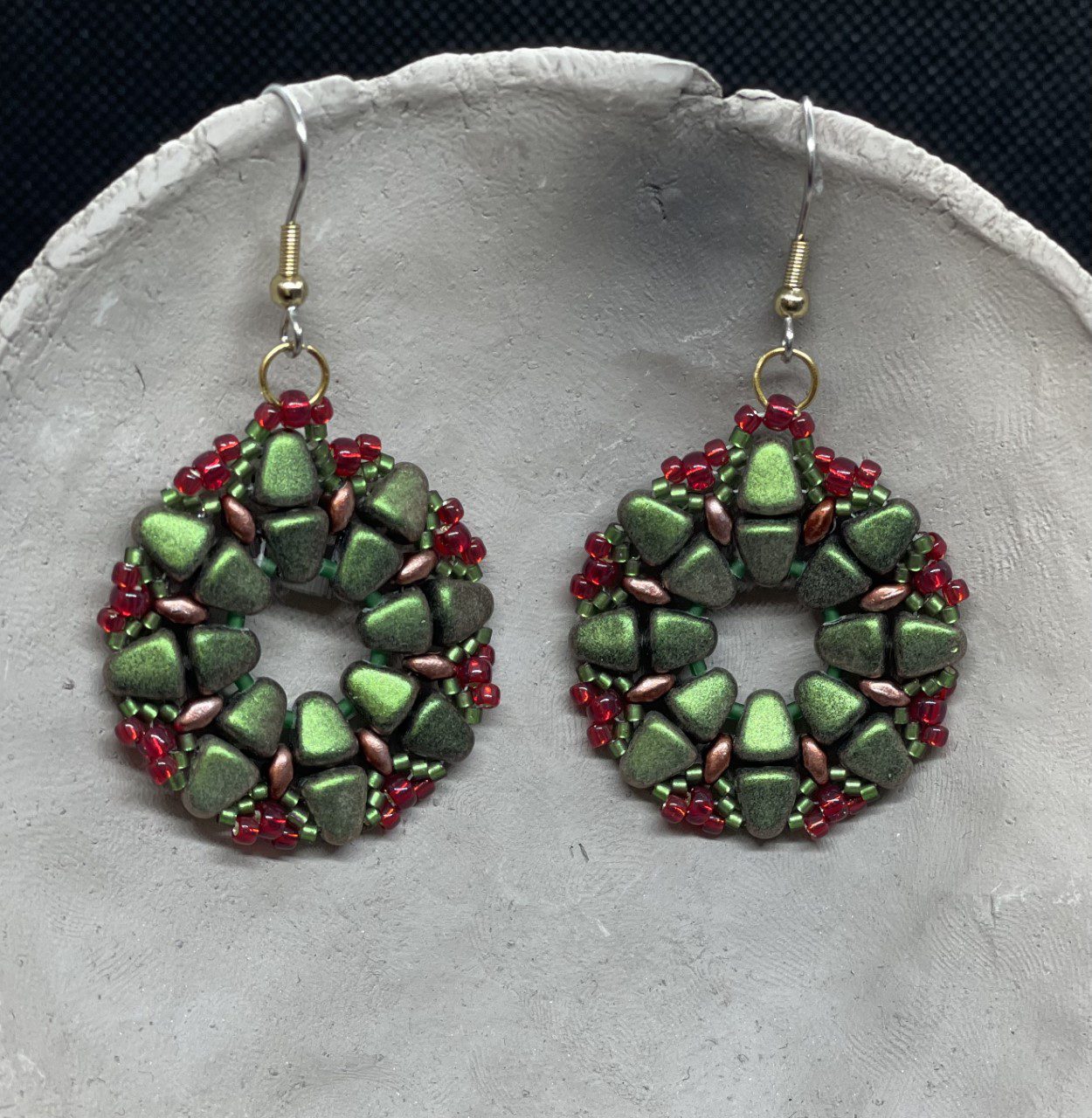 Instructor: Liz Turner
Learn to make these large, stunning earrings with Liz! These Viracocha Earrings by Nela Kábelová are perfect for any season. When checking out, you'll notice that there are multiple ticket options. These are our kits! All kits include everything to make your very own pair of earrings, so choose whichever one you like the look of best. Kits include Toho 11/0s + 8/0s, Delica 11/0s + 15/0s, Nibbits, Miniduos, findings, and everything you'll need to string them up! Kits will be waiting for you when you arrive.
Wanting to use your own colors? Whether you bring or buy your beads, here's what you'll need!
Nibbits
Miniduos
Toho 8/0s, 11/0s, and 15/0s
Delica 11/0s
Beading needle and thread
Earring components
This class will be held in the Blueberry Beads Classroom space above the Blueberry Beads store. If you're coming in from the front door, from the foyer, go through the door on the left and up the stairs to reach your destination! If you need help, feel free to ask any of us inside the Blueberry Beads store for guidance.
Recommended Age: 16+
Questions? Contact Kat Here >>> classes@blueberrybeads.com or 425-540-9096
Related Events
REFUND POLICY: Students who cancel 5 days (or more) before the start date of their class receive a full refund. Students who cancel 4 days (or less) before the start of their class will ONLY receive a refund for the price of the kit. The $45 instruction fee is non-refundable UNLESS we are able to fill your seat before the start of the class.
CANCELLATIONS: Classes that have not met the minimum number of tickets sold 5 days prior to the date of the class may be subject to cancellation. If your class is cancelled by Blueberry Beads, you will be notified by e-mail or by phone and receive a full refund of tuition and fees.
MISSED CLASSES: Students who have missed a class will not receive a refund of any kind.
HOLD HARMLESS: I agree to hold harmless Blueberry Beads, its officials, and its employees for any and all claims for personal injury and/or property damage in which damage and injury is or appears to be proximately caused in whole or in part by my participation in this program.
PHOTO PERMISSION: I give permission for Blueberry Beads to use, without limitation or obligation, photographs which may include my image or artwork for purposes of promoting our classes.